Hey, GVL — Kyle, here. I recently took the TRX Suspension Training group exercise class at the YMCA of Greenville's Verdae location. TRX stands for Total (Body) Resistance Exercise. With only 1 piece of equipment — a strap with 2 handles mounted to the ceiling — TRX uses gravity + your bodyweight to perform a variety of exercises, all scientifically proven to improve your heart health, flexibility + strength.

TRX equipment at a glance — just one strap with two handles | Photo by GVLtoday staff
What we tried (with pricing): 
The Monday class at 5:45 a.m. was a bootcamp-style class with 4 sections: warm-up, strength, TRX and an outdoor lap. 
Strength featured 6 traditional exercises like deadlifts + chest presses, while TRX featured 6 exercises like push ups and jump squats (squat, jump back into standing position, repeat — all while holding TRX strap). 
After the initial warm-up, we performed the strength + TRX sections followed by a quick jog around the building, twice. Our instructor, Katy made sure to demonstrate all of the exercises before jumping in.
TRX is free for YMCA members + offered at multiple YMCA of Greenville locations.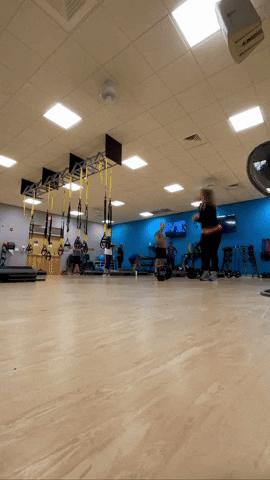 TRX in progress | Gif by GVLtoday staff
What not to miss:

Getting ready to jump into the TRX exercises | Photo by the GVLtoday team
Don't miss the chance to check in with the instructor. I didn't know exactly what to do with each exercise, and wasn't expected to as a first-timer. While Katy demonstrated each move, I definitely checked in with her (+ she with me) on the proper way to perform each exercise (like doing push-ups with the TRX strap) and posture to get the best workout. The burn was real.
What we're still talking about: 

Instructor Katy walking the class through each exercise | Photo by the GVLtoday team
I'll admit I was initially intimidated by the strength focus, as the extent of my strength training is testing how many grocery bags I can carry from the car. However, the simplicity of the few pieces of equipment needed + Katy's coaching along every step made for an amazing workout that was not only fulfilling but fun. Katy's playlist was a hit, too. 

TRX Suspension training class with Instructor Katy | Photo by the GVLtoday team
How you can experience this:
TRX is free for YMCA members + offered at multiple YMCA of Greenville locations and times. All you have to do is sign up, show up in workout gear + with a bottle of water, and get started. 

All you need to bring is a water bottle | Photo by the GVLtoday team
Things to know if you go:
Experience:

TRX Suspension Training group exercise class at the YMCA of Greenville 

Price:

Free for members

Address:
Hours:

Various class hours

What to Bring:

Just a water bottle 

YMCA of Greenville's Verdae facility | Photo by the GVLtoday team