A couple of weeks ago, our team got to take a tour of The Lofts at Woodside Mill — and today we're going to tell you all about it. From what we tried to what we can't stop talking about, let's get into it.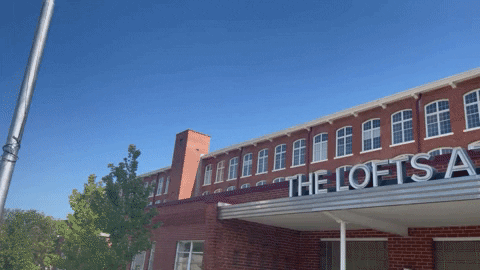 Welcome to The Lofts at Woodside Mill | Photo by GVLtoday Team

What we tried (with pricing): 
We toured the entire property, starting by checking out a one-bedroom apartment on the first floor + all of the indoor common areas. We also went outside and saw the new Woodside Bistro location, as well as locations for a new brewery that will soon be on the property + the available retail spaces. 
What not to miss:
The apartments have great open floor plans. Don't miss out on the gym + yoga studio and the pool and pavilion. The clubroom is also luxe — it has a pool table and other games, as well as a giant chalkboard listing upcoming events like goat yoga on the lawn, yappy hour at the pet park, and pool parties.

A bright + open community space — peep the pool table in the back | Photo by GVLtoday Team

The yoga studio is beautiful + soon they'll have guest yoga instructors to lead classes in the space | Image via GVLtoday Team

What we're still talking about: 
From the apartments themselves to all of the amenities, there is so much for residents to experience. The apartments have lots of natural light flooding in, and we love the exposed brick + high ceilings. We're excited about the brewery that will be opening on the property, the retail spaces to be filled, the pool area, and of course — Woodside Bistro opening soon.

Check out this open floor plan + exposed brick | Image via GVLtoday Team

We can't get over how much open community space there is | Photo by GVLtoday Team
How you can experience this: 
Schedule a tour to see it for yourself. The Lofts at Woodside Mill are located at 1 E. Main St. + are less than 10 minutes from downtown, the West End, and more.

Go see it for yourself | Photo by GVLtoday Team
Things to know if you go: