Kyle here. 👋 Did you know that employment of EMTs and paramedics is projected to grow 15% between 2016 and 2026? That's much faster than the average projected growth of other occupations. 
For those looking to get into the field, Greenville Technical College offers their own EMT/Paramedic Program, featuring a mix of classroom + realistic hands-on learning that prepares students for the real world.
I was a "student for the day" in a condensed version of the program, and it was fascinating. Read more about how you can Try This and see if becoming an EMT is for you. 
What we tried (with pricing): 
After we toured the extensive training facility's classrooms + ambulance simulator, and large lab, we got to sit in on Dr. Daniel Schwerin's paramedic lecture class. Afterwards, we got a lesson on "stopping the bleed" from program instructor Bryan Peters.
When it was time to get our (gloved) hands dirty, we stuffed a fake wound with gauze to stop the bleeding + then applied a tourniquet to a "victim" who lost part of his leg.
Applying for the program is free, and SC Workforce Scholarship of the Future program may cover tuition.
What not to miss:

Seeing anything questionable in this mock-apartment training room utilized to spot clues of what could have caused an emergency | Photo by the GVLtoday team
The facility's realistic apartment features a furnished living space with realistic "clues" that help you fully understand different emergency situations, like alcohol bottles + pills (is this an overdose?) and a crib (is there a child in the apartment?).
What we're still talking about: 

Our "victim" lost his leg and was not in good shape | Photo by the GVLtoday team
The program offers an incredibly realistic experience of emergency situations. It's a controlled environment, but the stress of the squirting blood and screaming human simulator was very real.

Inside the ambulance simulator | Photo by the GVLtoday team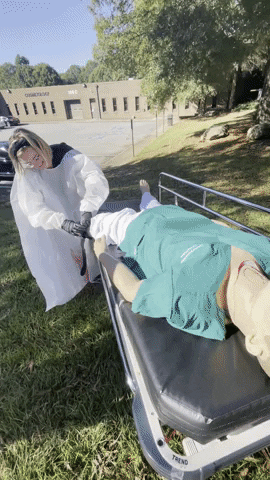 GIF by the GVLtoday team
How you can experience this: 
Register for the next 15-week cohort, starting Jan. 10, 2022.

Dr. Daniel Schwerin with the current paramedics class | Photo by the GVLtoday team
Things to know if you go: 

Large lab space | Photo by the GVLtoday team

Learning to control oxygen levels + intubate patients | Photo by the GVLtoday team