Last week, you may have seen a clip on our Instagram story of an artist pouring concrete for a project in Mauldin. Our team had the chance to meet with artist Peter Lundberg, who was in town working on his first sculpture piece in South Carolina. 
Here's the scoop on what he's creating with 23 truck loads of concrete. ⬇️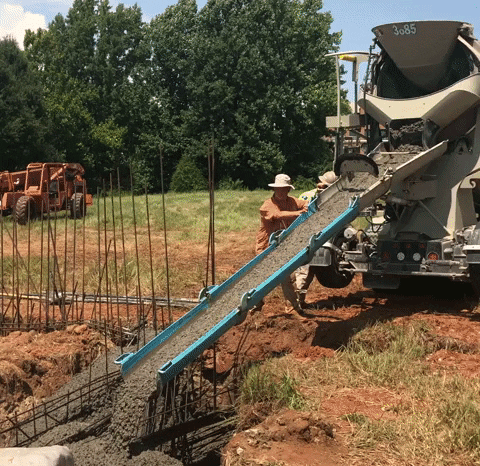 Peter Lundberg is an artist based out of Vermont. He specializes in bronze + concrete sculptures and has displays in 50 cities across the world. The piece in Mauldin will be joining the ranks of Pittsburgh, Chattanooga, Frankfurt, Taizhou, Berlin, Sydney + Quebec.
Peter's works are larger than life. His sculptures are abstract – appearing to tower and teeter, despite being made of incredibly solid material.
He's also well-known for his method. To make his concrete sculptures – Peter digs trenches in the ground (essentially a giant mold). He fills the trenches with rebar + concrete, then leaves it to cure for several months.
The sculpture in Mauldin will be in the urban village development project along I-385 called BridgeWay Station (specifically on the plot of land between I-385 and Center Pointe Blvd.). It is Peter's largest + heaviest work to date:
The mold is

16 ft. deep

.

The sculpture used

2,000+ units of steel rebar

and

23 trucks of concrete

.

The sculpture is

85 ft. tall

.

10 ft. will be buried, so the sculpture will stand ~6 stories out of the ground.

The sculpture will

weigh approx. 500 tons

.
In December, Peter and his team will return to the site. They'll excavate the land that was acting as a mold for the sculpture. Then, using a crane, they'll tilt the sculpture up out of the ground so it rests on a base (here's a video showing how that works). 
We won't know what the final sculpture will look like until it's raised next year – but, we can get a sense of the size and shape through these aerial pictures. We're excited to have one of Peter Lundberg's pieces in the Upstate.
Pictures
Quiz
Thank you for taking our quiz. Find the answer in the Wrap section of today's newsletter.